From June 14th to 19th, the awards ceremony for"RetailVision Detection Grand Challenge"had been hosted in IEEE/CVF CVPR2020(Figure 1), which ranks A class in the international top conference of China Computer Federation(CCF). Team members from Department of Automation and National Engineering Laboratory for Speech and Language Information Processing(USTC-NELSLIP) won the first place in the competition (Figure 2). The team was instructed by vice professor Jun Yu, with postgraduate candidates Haonian Xie, Guochen Xie and Mengyan Li from the Department of Automation.

(Figure 1)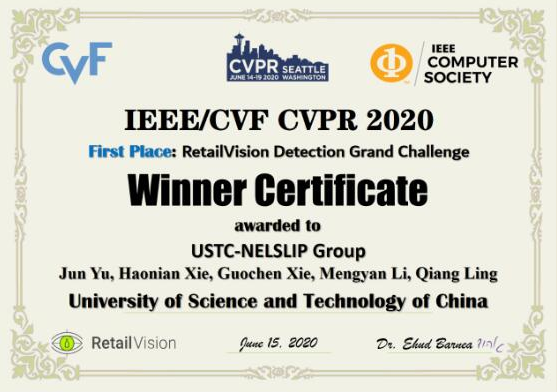 (Figure 2)
Co-hosted by IEEE and CVF, IEEE/CVF CVPR is the international top conference in the fields of computer vision and pattern recognition, which ranks the first in AI research area according to the latest Google-based Academic Impact Factor.The rapid development of computer vision and machine learning has brought a huge impact on the retail industry. In addition to the rise of online shopping, traditional physical stores are also trying to adopt artificial intelligence-related technologies to meet customers' needs. Faced with the above fact, RetailVision Detection Grand Challenge hosted in IEEE/CVF CVPR with collecting thousands of pictures for supermarkets worldwide, among which were shelf pictures of stores in the U.S., Europe and East Asia. On average, each picture contained hundreds of dense products. In addition, the quality, shooting angle, and lighting conditions of the pictures in the competition data set were also inconsistent, which requires participants to design an algorithm that can accurately locate the products in the pictures.

(Figure 3)
The competition had attracted many teams including Google Research, OPPO Research Institute, University of Science and Technology of China and other famous research institutions at home and abroad. After a fierce preliminary screening, the USTC-NELSLIP team won the first prize (Figure 3).
This competition was supported by the National Natural Science Foundation of China Joint Fund, the University of Science and Technology of China Exploration Fund and other projects.
This press release is reproduced below: http://nelslip.ustc.edu.cn/nshow/84